Blog Archives
---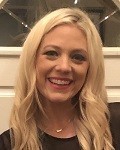 Lauren is a Board Certified Licensed Professional Counselor-dual Master's from University of Pennsylvania in School Counseling as well as Mental Health Counseling. She has her Bachelor's degree from St. Joseph's University in Education. Lauren specializes in working with children and adolescents and families as well as eating disorders, anxiety and school related issues.
Lauren has experience as a school counselor at Hartranft Elementary School in Philadelphia, PA. She has private practice counseling experience at Starting Point in Westmont, NJ. Lauren also has experience in working with woman and girls suffering from eating disorders at the Eating Disorder Treatment Center in Marlton, NJ.
She also specializes in….. Child and Adolescent and Family Therapy, Individual Anxieties, School & Group Counseling, Children and Adolescent Counseling, Eating Disorder Counseling, Divorce Recovery and Peaceful Resolution of Family, Education Counseling for Elementary Students and Special Education Students and Parents, Educational Plan and IEP consulting, and Social Skills and Conflict Resolution.