May is Mental Health Awareness Month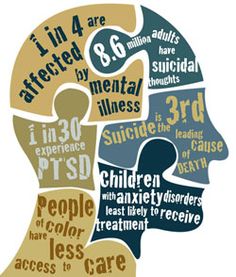 May is Mental Health Awareness Month
Did you know:
One in four adults lives with a mental health condition.

One in twenty-five adults lives with a serious mental illness.

Four out of five new heroin users started by abusing prescription drugs.

Twenty-three million Americans age 12 or older suffer from alcohol and drug addiction.

Half of chronic mental illness begins by age 14. 

Suicide is the 10thleading cause of death in the U.S.
(Statistics from the National Alliance on Mental Illness and National Institutes of Health)
What do you do when you, your partner, your child, your parent, your neighbor, or your friend is struggling with depression, addiction, marital problems, grief, anxiety, recovery, or a family crisis? Where do you turn?
You call The Starting Point. Why?
The Starting Point provides support, education, assistance, and referral to more than 400 people each week – all kinds of people from all walks of life—who seek help for a wide range of mental, emotional, and spiritual issues.
Year-round you can attend our free Wednesday Lecture Series (noon and 7 pm) with Vince DiPasquale, to learn more about coping techniques to deal with life's many challenges. The Starting Point's educational emphasis is on personal growth in the spirit of partnership.
The Starting Point has 40 independent practitioners specializing in wide range of mental health issues and recovery. More information can be found by Clicking Here.
You can also come to The Starting Point to attend any of the more than 20 group meetings each week, such as, Emotions Anonymous, AA, Survivors of Sexual Abuse Anonymous, CoDA, Sexaholics Anonymous, to name just a few. More information can be found by Clicking Here.
For more information or a referral: Call 1-856-854-3155.